Home
'Engineering Law and Construction Management' published by SBU Press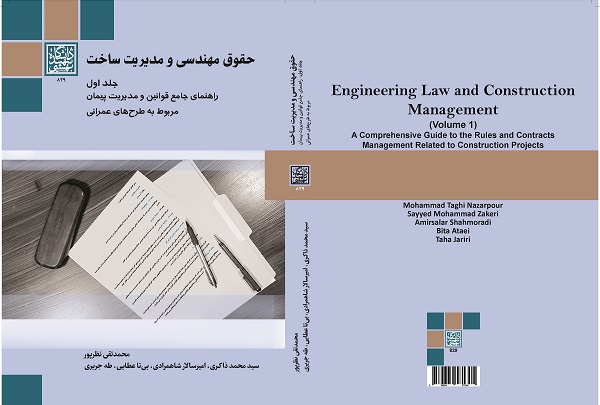 The book Engineering Law and Construction Management (Volume 1): A Comprehensive Guide to the Rules and Contracts Management Related to Construction Projects, authored by Dr. Mohammad Taghi Nazarpour, associate professor of the Faculty of Architecture and Urban Planning of Shahid Beheshti University, and colleagues has been published recently by SBU Press in 412 pages.
The need to use management methods and a comprehensive pre-tested legal system in construction projects is an inevitable principle all over the world, which has become more and more apparent with the advancement of technology on the one hand and the lack of financial and human resources on the other.
In this volume, the readers are introduced to the issues about the technical and executive system of Iran, the points needed for better understanding and specialized application of the approvals of the Iranian Cabinet, circulars issued by the country's Plan and Budget Organization, rules and regulations as well as specialized publications. The course of discussions of the country's technical and executive system, key points of the general conditions of contracts and lump sum contracts, points related to the basic unit price index, the law of holding tenders, coefficients and guarantees of contracts, etc. are among the most important topics raised in this book.
In this work, an effort has been made to present diverse relevant topics in a useful and practical way for managers active in the field of construction, employers, consulting engineers, contractors, those interested in project management and construction, and students of this field.